Slovenia is not a place that Jack and I had planned to spend much time. We didn't set out to buy a boat in Slovenia. It was more a case of, "where in the world is there a boat that we can afford", and Slovenia turned out to be that place. So, while our visit to Slovenia started as one of convenience and we had no real expectations of the place (after all Slovenia only has about 40 km of coastline), we instead discovered that Slovenia was an incredibly beautiful country with some of the most friendly and helpful people we have met anywhere. Also, the beer was very cheap, which always helps.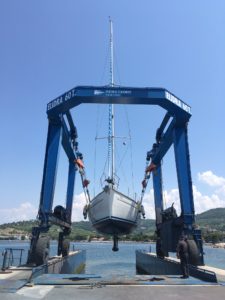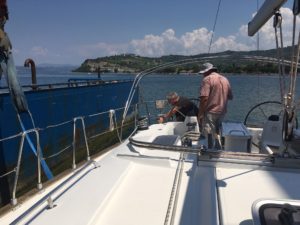 Our initial plan was to spend a few days in Slovenia, put Vesna in the water and then sail her to Italy to get familiar with the boat and pick up the kids and my parents. After some early teething problems with the boat (flat battery, broken fridge, TWO broken heads) we reconsidered this probably overambitious plan.  Jack and I spent a week in the marina in Izola working on getting the shipboard systems working. After all, Vesna will be our home so working fridges and toilets are fairly important. Slovenia turned out to be a great place to do this. Our new Slovenian friends helped us when we needed to find parts and expertise for the boat and they even helped us with a tow and a cheap boat lift when our propeller broke during a test cruise.
While we didn't see anything of Slovenia other than its beautiful coastline, we loved our two weeks in the country. The town of Izola was old, quaint, breathtaking and full of amazing food. Our extended stay in Slovenia meant that we got to show the kids Izola and take them our favourite restaurant, Moby Dick. Izola was such a safe and friendly place that Jack and I were happy to let the kids explore the town, shops and beaches on their own while Jack and I worked on the boat.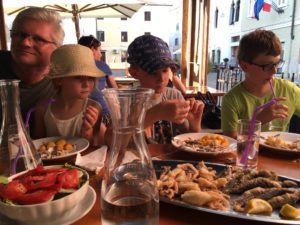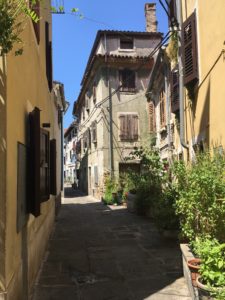 By July 13, Jack and I had been in Izola for two weeks and we were ready to sail Vesna. The winds in the northern Adriatic are usually great for sailing but every so often a wind called the Bora travels down from the Alps causing strong, gusty northerly winds that are no fun for sailors (it's a katabatic wind, the climatologist in me could write an entire blog post on how this wind originates and what makes it so strong but Jack has told me that this may be of limited interest on our sailing blog). We had a small window before a Bora was forecast in the northern Adriatic to leave Izola. The conditions were not ideal, there was a steep swell which would make entering our planned destination harbor a challenge, but Jack loves a challenge, and we needed to sail. So the decision was made. We exported the boat in a town neighboring Izola called Koper. This involved waiting in the boat at the police jetty for an hour while the police and harbormaster checked all our paperwork and talked to our export agent. After that we were free to go and start sailing to Italy!