We have spent the last week or so in Olympic Marina near Laviron waiting for a part for our anchor windlass. The anchor chain was replaced over the winter and the new chain just doesn't work well with our existing gypsy. We're not sure if this is because the old gypsy is worn or if it is mismatched with the chain, but we're hoping that the new gypsy will prevent the chain slipping that we have been experiencing when we lower the anchor.
There is not a lot to do at this marina, so we decided to do a road trip over the weekend. We had planned to visit Volos and Meteora, but ended up cutting our trip short on account of some forecast strong winds. Our position in the marina is not very protected and so we wanted to make sure we were around when Vesna was getting hit by the wind and bounced around in the chop.
Volos was surprisingly cosmopolitan and vibrant. We stayed in a hotel on Mount Pelion (home of the mythical centaur, Chiron) and the kids enjoyed the big beds, swimming pool, and buffet breakfast. We also caught up with our friends on SV Grainne which was a fun reunion after saying goodbye in Trogir last September. We caught a train to a little town in the mountains called Milies, which for the train aficionados (I'm looking at you, Dad), has one of the narrowest gauges (60 cm) in the world.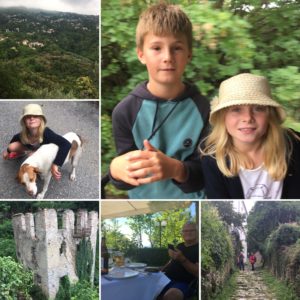 Getting ready leave Volos on Sunday afternoon, we learned that is important to ensure that your car is roadworthy when hiring cars in Greece. I feel somewhat foolish writing this because it is common sense and something we should do every time we hire a car. However, our assumption was that no one would hire out a car that was unsafe. Nope. We had driven our little Fiat around 400 km before discovering that the inside edge of the two front tyres was worn down to the metal and canvas. These tyres were a blowout waiting to happen. Thinking about the distance we had travelled, the speeds we had reached, and the mountain roads we had driven on, sometimes in the rain, made Jack and I feel sick.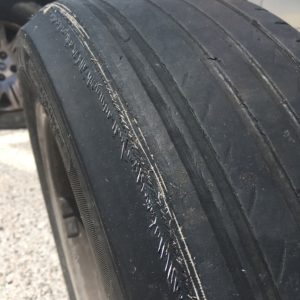 Late on a Sunday afternoon there was nowhere to get replacement tyres for the car and we really wanted to get back to the boat (the meltemi started blowing, as forecast, at 5 am Monday morning). We replaced the most badly worn tyre with the spare and limped the 400 km back to Vesna with one bald tyre and a very dodgy spare in just under seven hours.